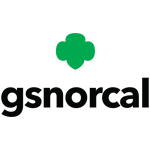 Girl Scouts of Northern California
Crescent City Coffee & Conversation with Girl Scouts
Starbucks
450 U.S. 101, Crescent City, CA 95531
Apr. 4th
Interested in learning more about Girl Scouts? Join us from 3:30 pm - 4:30 pm for an intimate chat and a coffee (on us!) to connect with local staff and other interested families to learn more about how you can get involved with Girl Scouts!
Join Girl Scouts now!
Start the new year off right! Join as a new youth member today and get a $10 coupon for your new Girl Scout gear!